Thursday, March 19th, 2020
S'mores Recipes for the Best Camping on Kentucky Lake
Few things compliment a fun evening outdoors like a delicious, gooey, chocolatey s'more, right? And no camping trip is quite complete without them. So whether you're planning a boating trip to our Kentucky Lake marina or planning to park your RV and stay a while, don't forget the s'mores stuff. We repeat: Don't. Forget. The. S'mores. Stuff. (It would be so sad.)
All us at Cane Creek Marina & Campground share a love of both the outdoors, and of s'mores– so we've put together a list of ways to jazz up your s'mores recipe to keep it exciting during every camping trip on Kentucky Lake. The classic s'more is made up, of course, of two graham crackers, a piece of milk chocolate, and a large, perfectly roasted marshmallow. Simply sandwich them together, and feast. If you want to try some fun new twists on the traditional s'more, check out our ideas below.
1- Peanut Butter S'mores
OK. Peanut butter lovers, raise your hands! If you haven't ever incorporated a little PB into your s'mores makin' efforts, the time is nigh. All you have to do for this s'mores upgrade is spread a little of your favorite kind of peanut butter on one or both graham crackers, and otherwise assemble your s'more as usual. The heat from the roasted 'mallow will melt both the chocolate AND the peanut butter, for a s'more experience that's next level.
2- Ginger Snap S'mores
Get a little spicy with this twist on classic s'mores! Instead of using graham crackers for the ends, instead try ginger snaps. These crisp and flavorful cookies add a little spice to the mix, and pair surprisingly well with the chocolate and marshmallow elements. This might even become your new favorite.
3- S'mOreos
Level up your s'mores game with S'mOreos. This is exactly what it sounds like– s'mores plus oreos. Slip an Oreo cookie between the layers of your next traditional s'more for added crunch and Oreo-goodness. This, dear friends, is a snack lover's dream.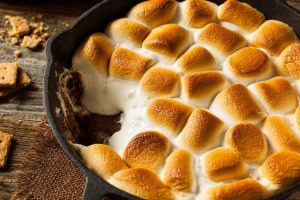 4- S'mores Dip
This one will require a little supervision from the parents, but it's a delicious and fun take on the childhood favorite campfire treat. To make s'mores dip, you'll need a cast iron skillet, and the traditional s'mores stuff– graham crackers, large marshmallows, and chocolate, though for this s'mores recipe, we suggest chocolate chips. Line your cast iron skillet with a layer of chocolate chips, then top it with a neat row of marshmallows. Sit your skillet over the open campfire and let the ingredients melt, and the mallows get toasty. Then, break pieces off of graham crackers for dipping!
No matter which s'mores recipe best suits you, we hope you'll come hang with us at Cane Creek Marina & Campground this Spring and Summer! Enjoy time on beautiful Kentucky Lake, dock your boat with us, and go for a hike with the family, then end it around a campfire with your favorite type of s'mores.
At our RV Campgrounds near Land Between the Lakes, we have boat slips for rent across three separate boat docks and 24/7 'on water' fuel service to prepare you for your next Kentucky Lake adventure. We also have shower facilities for our happy campers, a boat launch ramp for fishing and boating, complimentary WiFi, and a general store stocked with snacks, beer, bait, boating and campaign supplies, and just about anything you may need. We sure hope to see you s'more over the coming months!