Monday, October 19th, 2020
Kentucky Lake Camping at Cane Creek
There's no recharge like the one you can get from time spent in nature. Living simply is an art form, and at Cane Creek Marina and Campground, we consider ourselves artists on that front. So as the leaves change colors and the temperatures dip, do you feel it in your bones? That call to nature? That pull toward adventure? Well, we've got everything you could need for your Kentucky Lake camping experience here at Cane Creek, and we want to tell you why fall is a great season to visit!
1– Fall Scenery
If you're looking for a picturesque backdrop for your Kentucky Lake camping adventure, fall is the way to go. With the beautiful changing leaves that frame the glassy lake, you'll feel like you've stepped into a painting.
2– The Weather
Who doesn't love sweater weather? When you enjoy Kentucky Lake camping during the fall season, you reap the benefits of cool, refreshing temperatures. Forget sweating it out. You'll be comfortable while you enjoy your outdoor experiences at Cane Creek.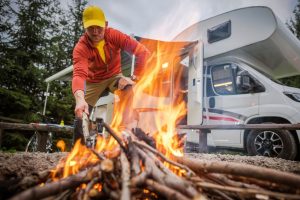 3– Better Sleep
It's a lot easier to sleep when it's not roasting hot outside. So in addition to enjoying cool days for outdoor fun, you can also sleep like a baby–cuddled and cozy– on these beautiful fall nights.
4– Less Bugs
Kiss the mosquitos and ticks goodbye! Another great perk of camping during the autumn months is you don't have to worry about all the summer bugs and the itchy bites that accompany them.
5– Campfire Meals
There's something so fun about heating up the cast iron skillet, and preparing your camp meals in the crisp fall air. Light up the campfire, and huddle in close with your friends and family. Share a hot meal together, and revel in the simplicity of it all. And maybe top it all off with delicious s'mores!
Is your head now spinning with all these great reasons to plan a fall camping trip? We hope you'll join us this season at our RV campgrounds for your Kentucky Lake camping fun. Park the RV, and even bring your boat! We can't wait to enjoy this incredible season with you.