Friday, November 13th, 2020
A Cane Creek Wedding
Curtis was born and raised in MI, but moved to Tennessee more than 15 years ago. After a divorce a couple of years ago, Curtis found himself needing a place to stay. Since he works on the river as a mate on a tow boat, and he was home rather infrequently, he decided to buy an RV, which he stays in when visiting Cane Creek.
Ruth was born in Spain, while her dad was in the Air Force, but spent most of her childhood in MN, and VA. After attending Bible College in MI, she met and married her first husband. They had spent 31 years together when he passed away in 2019 after a battle with cancer. Ruth had to sell her house, and she too found herself living in an RV in TN, on a friend's property.
Ruth and Curtis both decided to try the online dating scene due to COVID-19, and both found themselves on Match.com. For Ruth, only a week in, she realized it wasn't for her, and was about to cancel her membership, when Curtis "liked" her profile. She "checked it out," and saw he too lived in an RV. On a whim, she decided to message him regarding the adjustment to RV life.
Brought Together by RVs
This was their initial meeting, though Curtis was on the river at the time with 2 weeks left to go. The two texted and talked on the phone for 2 weeks, feeling an immediate connection. They were finally able to meet in person on the weekend of July 4th. There was instant soulmate chemistry. They both say they felt like they had finally found that other half that was missing, giving them new direction. All that was left to do? A Cane Creek wedding, of course.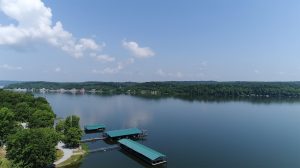 A Beautiful Cane Creek Wedding
Ruth and Curtis wanted to get married at Cane Creek, because they both love the outdoors, and one of their first activities together was kayaking on Kentucky lake. They celebrated their wedding with a small, lakeside bonfire at sunset with a few close friends and family.
The newlywed couple is so grateful to Cane Creek for letting them get married on site, close to the water. It was so memorable and special for them, setting the perfect scene.