Monday, January 25th, 2021
Kentucky Lake Fishing– Enjoy Spring on the Lake at Cane Creek
Spring will be here before we know it and every fishing enthusiast knows what that means– incredible Kentucky Lake fishing and so many great catches to enjoy. Though the fishing here is great year round, it seems that springtime is really when things start to pick up and get interesting. This is due in part to spring spawning season.
March is a great time to explore the waters at Kentucky Lake and the shallower areas of coves and creek beds because it aligns with the reproductive cycle of many fish species. Not only do waters tend to warm up around this time encouraging activity, but also females go out in search of food before laying their eggs. So if you enjoy fishing, plan a trip to Cane Creek Marina & Campground, and experience spring on the lake!
Types of Fish at Kentucky Lake
Some of the best fishing in the country can be experienced right here on our lake. Kentucky Lake fishing means you've got access to a combined 218,000 acres of open water ripe with many different fish species including but not limited to:
Largemouth Bass
Smallmouth Bass
Coosa Bass
Kentucky-Spotted Bass
Yellow Bass
Striped Bass
Rock Bass
Black and White Crappie
Bluegill
Catfish
And more!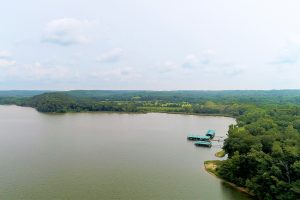 When it comes to freshwater fishing, it just doesn't get much better than this. In fact, Kentucky Lake and the neighboring Lake Barkley appear every year in the Bassmaster Top 100 bass lakes in the US. These waters have been home to some legendary catches, so when will you come try your luck?
That said, perhaps everyone in the family isn't keen on days spent casting and reeling. No problem! There are so many things to do and enjoy right here on the lake at Cane Creek. Enjoy time spent outdoors, hike, feel the sun on your face, and connect with nature again all at our Stewart, TN marina and campground. The activities and time spent here will bring you and your family back to life.