Kentucky Lake Dining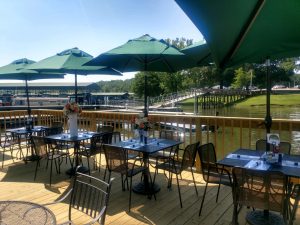 Cane Creek guests should definitely carve out time to check out our sister business, Pebble Isle Marina, and specifically the on-site restaurant during their visits. Nestled perfectly on Kentucky Lake next to New Johnsonville State Park, the Grey Heron Grill at Pebble Isle Marina has been in operation since 1998. Known for their exceptional catfish, the Grey Heron Grill also boasts a full bar with quality wines and cocktails to enjoy on the relaxing patio.
Whether you're stopping in for a quick bite, a cocktail, or an evening dinner with family or friends, The Grey Heron Grill is a great choice for Kentucky Lake Dining. Pebble Isle marina has plenty of space for visiting boaters to moor up. Situated directly on the water, the Grey Heron Grill is ideal for visiting boaters who can arrive by a short walk down the dock! Kids will love watching the active turtles and fish before and after a meal, too.
Recent Updates
In early April 2021, the outdoor seating area for the Grey Heron Grill was expanded and completely covered, to provide an enhanced space for enjoying drinks and meals with friends and family with incredible lakeside views. We're always looking for ways to improve the space and enhance the Kentucky Lake dining experience.
The Grey Heron Grill hours vary by season, but is usually open for lunch and dinner Friday–Sunday between April and September. The menu features a wide array of dishes including catfish, fresh burgers, sandwiches, steaks, hand-breaded chicken, and more. There's really nothing better than a delicious meal and a handcrafted cocktail or a cold beer after a long day on the lake. Please check out the Grey Heron Grill at your next opportunity!
Visit the Grey Heron Grill Facebook page for hours and weekly specials.