Wednesday, July 14th, 2021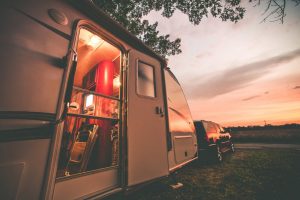 6 Tips for RV Updates on a Budget
If you're an RVer you know, those days spent hitting the road are the best days, but maybe your RV is getting a little dated? If your home away from home on wheels could use a little sprucing up, here are 6 tips for RV updates on a budget you can tackle this season before you get to road tripping.
Tip 1: PAINT!
When it comes to updating a space, painting is one of the quickest and most affordable ways to achieve a whole new look. Grab some paint and go to town on your RV, and you'll likely be surprised what a difference just that can make in its overall appearance. Fresh paint can transform the space inside your RV, making it look cozy and clean. Consider painting walls, shelves, cabinets, or even the ceiling. Go crazy.
Tip 2: New Furnishings
Stained, faded, torn, or just dated furniture can make your entire RV look a little dumpy. Sofa covers make it easy to hide prints or fabrics you don't love, or you can opt for all new furniture to really update the space. Futons are a great option as they are multifunctional, and generally on the smaller side. You can also find lots of great, affordable furniture with space-saving features at IKEA. No matter what you do, know that new furniture will be a game changer as RV updates go!
Tip 3: Window Treatments
Many RVs have old valances in them that can look dated or may make use of old fabric that's far from in fashion. Modernize the entire space by updating the window treatments opting for curtains instead of valances. You can even get creative about colors and patterns, and add a cozier feel to the RV. This can work well in the bedroom for added darkness when you're trying to rest.
Tip 4: Update the Countertops
Because RVs don't generally have a ton of counter space, updating them can be a pretty affordable endeavor. Another option if you don't want to replace them outright is to paint them. You'd be surprised what a difference a fresh color can make here.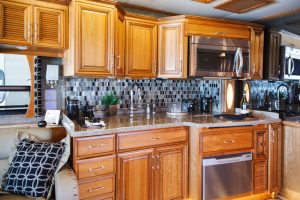 Tip 5: Add a Backsplash in the Kitchen
A great backsplash can add a lot of visual appeal to a kitchen space, even in an RV. This is also a great DIY-friendly project you can take on yourself. With peel-and-stick backsplash options in a wide range of colors and patterns, you can successfully achieve any aesthetic you want for your RV kitchen.
Tip 6: Decor Overhaul
Decor can make a world of difference in any space. You can breathe new life into your RV by updating decorations from throw blankets and pillows to wall art to plants– each piece adding to the overall look and feel of the camper. Create a space that's unique and speaks to your own taste, and you'll enjoy traveling even more.
—
If you're looking for affordable ways to achieve some RV updates before you travel this season, we hope these tips will help you get started. When you're ready to roll, bring that RV down to Cane Creek Marina and Campground for Kentucky Lake camping you'll return for again and again!